Membership and Rules:
Membership and Rules
Fill out this application form and consent of processing your personal data and your family members that you wish to keep in our database

You will receive a loyalty card of Harmony Klub

Present your card at the reception desk during every your visit

The number of overnights will be updated on your card upon departure

Once you have agreed to process your personal data, you will receive current offers from Harmony Club Hotels a.s and other program advantages which you will gain by joining the club
Membership advantages: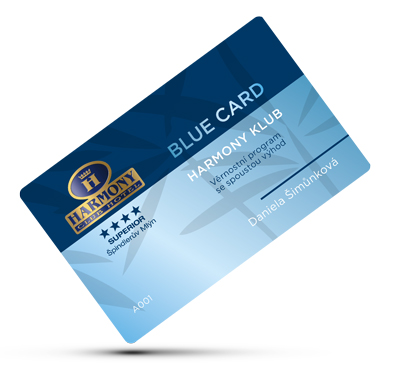 BLUE CARD
After spending 25 overnight stays on your card, you receive the following benefits:
20% discount from regular accommodation prices

30% discount on entry to the Sauna world

Unlimited access to the hotel's pool with two whirlpools and fitness center

a complimentary gift upon arrival

GOLDEN CARD
After spending 60 nights in our hotel you receive Golden Card with following benefits:
20% discount from the official accommodation prices

100% discount on entry to the Sauna world

20% discount on hotel sports facilities /bowling, golf, tennis, badminton /

Unlimited access to the hotel pool with two whirlpools, fitness center

Free extended check-out until 14:00 - based on prior arrangement with the reception

Other special benefits
Other:
Club membership expires by sending an email or a written request to the contact address of Harmony Club Hotels a.s.

Claims for all types of discounts will expire if you do not visit the hotel at least once every two years (which means - no more than 730 days between visits). However, your membership in the club will remain unless it is terminated your action. You can collect the number of overnight stays to regain the advantages.

Loyalty discounts cannot be combined with other discounts and can only be applied if all the requirements of membership are met

We are looking forward to your visit.
Download Application Form in .pdf