SPRING, SUMMER or AUTUMN IN THE MOUNTAINS
Vacation time -during off season time / meaning spring, summer, autumn - Spindleruv Mlyn offers diverse activities for all the family holidays or just simply getaway the city on fresh air for beautiful hiking the Giant Mountains
When a reservation is made directly through our online system or email, the price includes besides selected meals also access to the wellness center on the total area up to 1200 m2 /stainless steel pool with two whirlpools and a two-hour entry into the sauna world day for adult /, wifi, parking . You will appreciate the children's discounts up to 10 year olds gratis on the extra bed during July and August. Animation program for the kids 5x times per week during a summer holidays program /5 days a week / free of charge.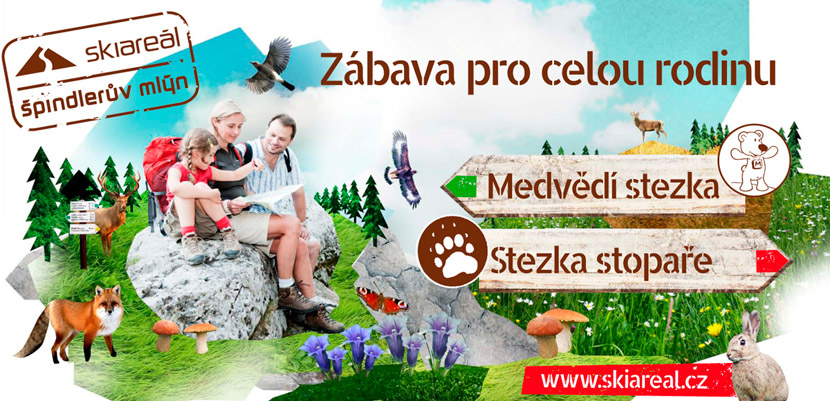 Hiking:
In the area of ​​Spindleruv Mlyn there are 180 km of marked hiking trails plus you can find easy city trails directly from the city center for the families with the small kids called "Miller circuits" .Amusingly informative trails are also prepared by skiresort www.skiareal.cz and it start at the top station of the cableway "Medvědín / 1235 /" and "St. Peter / 1182 /" with pleasant children's playground and lettering clatter sign of MEDVEDIN . Hike to Sněžka / 1603 m / highest mountain of the Czech Republic Spindleruv Mlyn belongs to longer ones but certainly the most interesting. The most common hike then is the one to the Elbe spring.

Cycling:
In recent years, cycling in Krkonoše began to develop intensively. Hundreds of kilometers of comfortable trail can be easily reached by cyclobus or mountain trails for physically fit individuals in the upper parts of the Giant Mountains promise unforgettable scenery. For cycling downhill riders there is MTB park in Sv.Petr with diverse routes and is open from June till September, new "Pumptrack" can be found in lower cableway station. There is bicycle rental and storage directly at the hotel


Cableways
Almost a year-round operation of chairlifts ensures life in the center of Spindleruv Mlyn and make tourist stays more attractive, especially for less experienced hikers or families with the small children who still want to take views of the Giant mountains panoramas. Lettering playground Medvedin with spectacular children's playground at the the upper cableway station is unique and your children will love it.
Cableways allow transporting of strollers, dogs and even bicycles / chairlift in Sv.Petr Plan / .If you want you can try paragliding or just head to some hiking expedition.
In lower cableway station Pláně can be found 5 tennis courts, where you may play volleyball or floorball. At the top station of Sv.Petr you can hire a landscaping tricycle / á 200 CZK / and try to ride downhill otherwise than on skis.

Elbe Dam - technical monument of Spindleruv Mlyn - the first dam on the river Elbe. From the city center can be reach via tourist route, definitely don't walk on the main road. There is as well small parking lot directly at the dam to stop shortly to enjoy the view. You and your children can try bridging or roping, which is operated by outdoor company yellow point and costs are cca 165, -CZK per person.
It is possible to swim in the dam .. but it is a little bit colder water there. It is worthy to try boating , small red boat can be rent for cca 200, -CZK for 45 min ad you will enjoy completely different view on area of Spindleruv Mlyn. Fishing is also possible on Labe dam, with permit only : Mr. Pavlik tel. +420 603 900 792, 723 618 566 - price cca 400,-CZK/per day .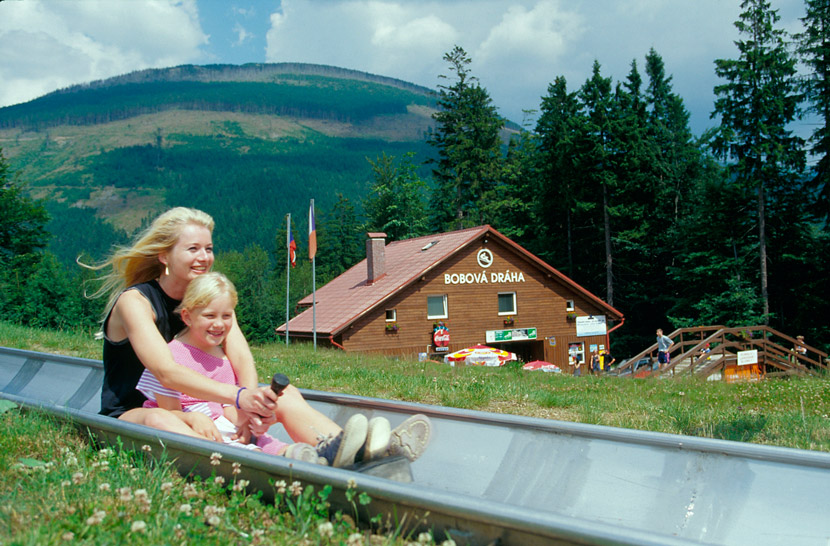 There is much more outdoor and adrenalin activities in Spindleruv Mlyn – as "giant swing", trampoline, Jacob's ladder or scooters and quads can be rent.
MUST is definitely the Bobsleigh and Monkey Park, which is next to the hotel.
Hotel guests can purchase a ticket for bobsleigh directly at the reception with 10% discount.
Do you play golf? Our guests receive a 50% discounted green fees at the golf course in Mlade Buky .